Emergency
Fashion story
2023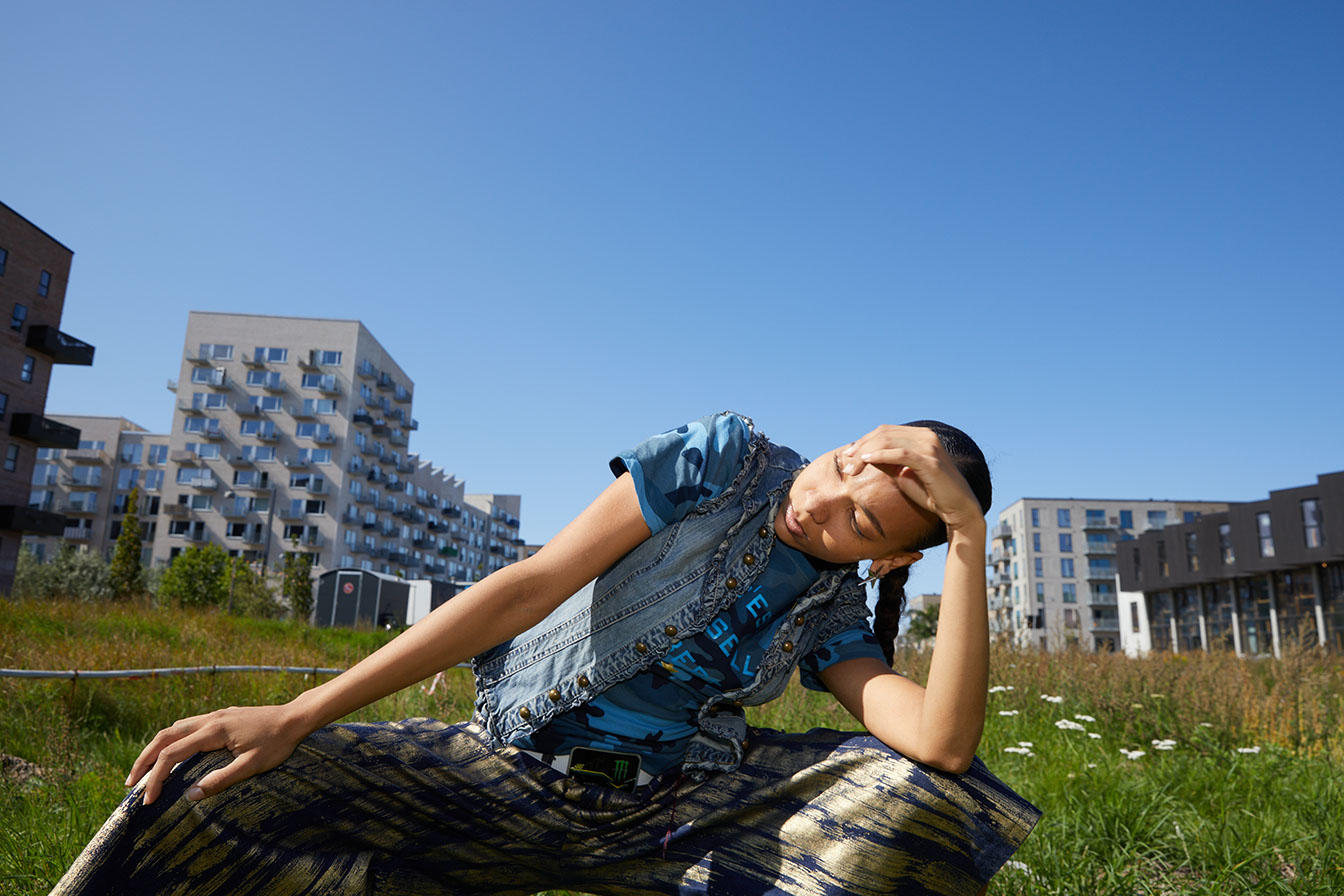 Short and sweet in Amager, Copenhagen.
Styling and creative direction: Erik Annerborn
Photography:
Sarah Fresco
Talent:
Ciara Rose Blankenship
Thank you: Ray Roa, Daniel Alonso Van Camp
All Makt Åt Fantasin
Exhibition design
2021
All Makt Åt Fantasin - Staden som lekplats
is a group exhibition produced by Konsthall C in collaboration with Hökarängens Stadsdelsråd. The participating artists all show works that explore political aspects of play and/or the history of construction playgrounds in Sweden.
Reflecting the topic, the installation process was partly open to the public. Young and old neighbours of the art gallery participated in the building of design elements, grounding the program and its themes within the local context.
Artists: Camilla Carlsson, Mats Eriksson Dunér and Priscila Fernandes
Curator: Ulrika Flink
SPELLS is a sustainable fashion concept initiated in 2009, where bodily language and patterns of motion replace clothes as the carrier of values and meanings in public space. Welding fashion, choreography, visual arts, and critical design, the concept manifested along the years with a series of collections.
SPELLS' goal is to dematerialize parts of the fashion system, to disrupt the current (devastating) industrial production, to supply the public with alternative forms of expressions for a post-material age, and to enhance the presence of emancipated bodies in public space.
Since 2020, SPELLS is run by Erik Annerborn and Ingrid Cogne.
Alby City
Public art work
2016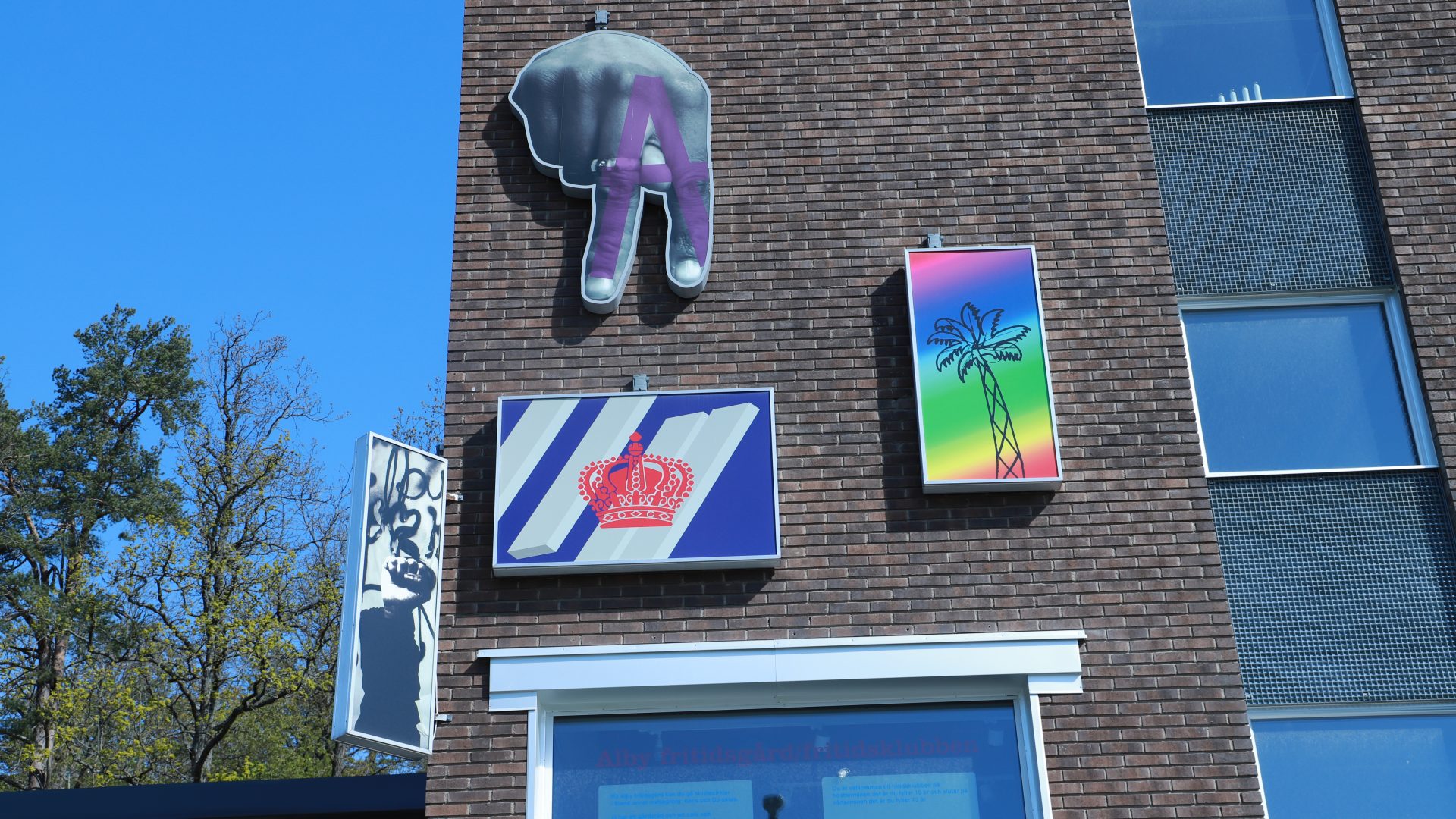 A public art work commissioned by the City of Botkyrka as part of the renovation of the local public youth centre. The renovation had been postponed a number of years, which created a tension between local youth and organisers, and the public officials. Another artist group had submitted a proposal that was rejected by the participants, which placed even greater emphasis on co-creation and transparency.
Instead of performing participation, I decided to move the design process to the temporary youth facilities, spending every Monday night for six months inviting everyone around to discuss the contents and layout of the work.
The result is a collection of light boxes with motives inspired by self-proclaimed qualities of the neighbourhood: community, respect, peace and royalty.
︎Location
︎More information
Concept, graphic design and pedagogy: Erik Annerborn
Production: Södermalms skyltfabrik
Thank you: Hani Albitar, Emma Dominguez, Vivian Gabriel, Fares Hamed, and everyone at Alby fritidsgård.
Varning för ras
Exhibition design and pedagogy
2012
Exhibition produced by the ethnographical/cultural space Mångkulturellt Centrum (the Multicultural Centre) as an attempt to introduce race as a social construct in a wider discourse within Sweden.
Research around racial stereotypes in Swedish literature, adoptees experiences of otherness, and the strong relationship between being Swedish and being White, are a few of the topics raised in the exhibition.
Varning för ras
also highlighted Sweden's own history, from Linnaeus to the second world war, and explored the connections between poverty and race.
Research: Daphne Arbouz, Fataneh Farahani, Tobias Hübinette, Helena Hörnfeldt, Rene Léon Rosales, and Catrin Lundström

Exhibition design and educational program: Erik Annerborn

Graphic design: Sara Kaaman