Dark, Happy, To the Core
Costume for dance
A performance where seven archetypes are making sense out of the world, and each other.
Dark, Happy, To the Core
is future myth-making, born at the heart of the massive Roskilde Festival in Denmark.
"[...]the world around us doesn't look too bright but here we are, having to make sense of this rapidly changing world, deteriorating notions and systems, the ruins of one things and the emergence of other things--I believe as artists we have the unique opportunity to create new stories that speak to this moment and also the future. [...]"

- Malik Nashad Sharpe, choreographer
Choreography: Marikiscrycrycry / Malik Nashad Sharpe
Dancers: Mathew "One" Bailey, Ciara Rose Blankenship, Jemima Brown, Max Cookward, Robin Dobler, Paolo D Gile, Yasmin Grant
Commissioned by Roskilde Festival and co-produced by Dansehallerne.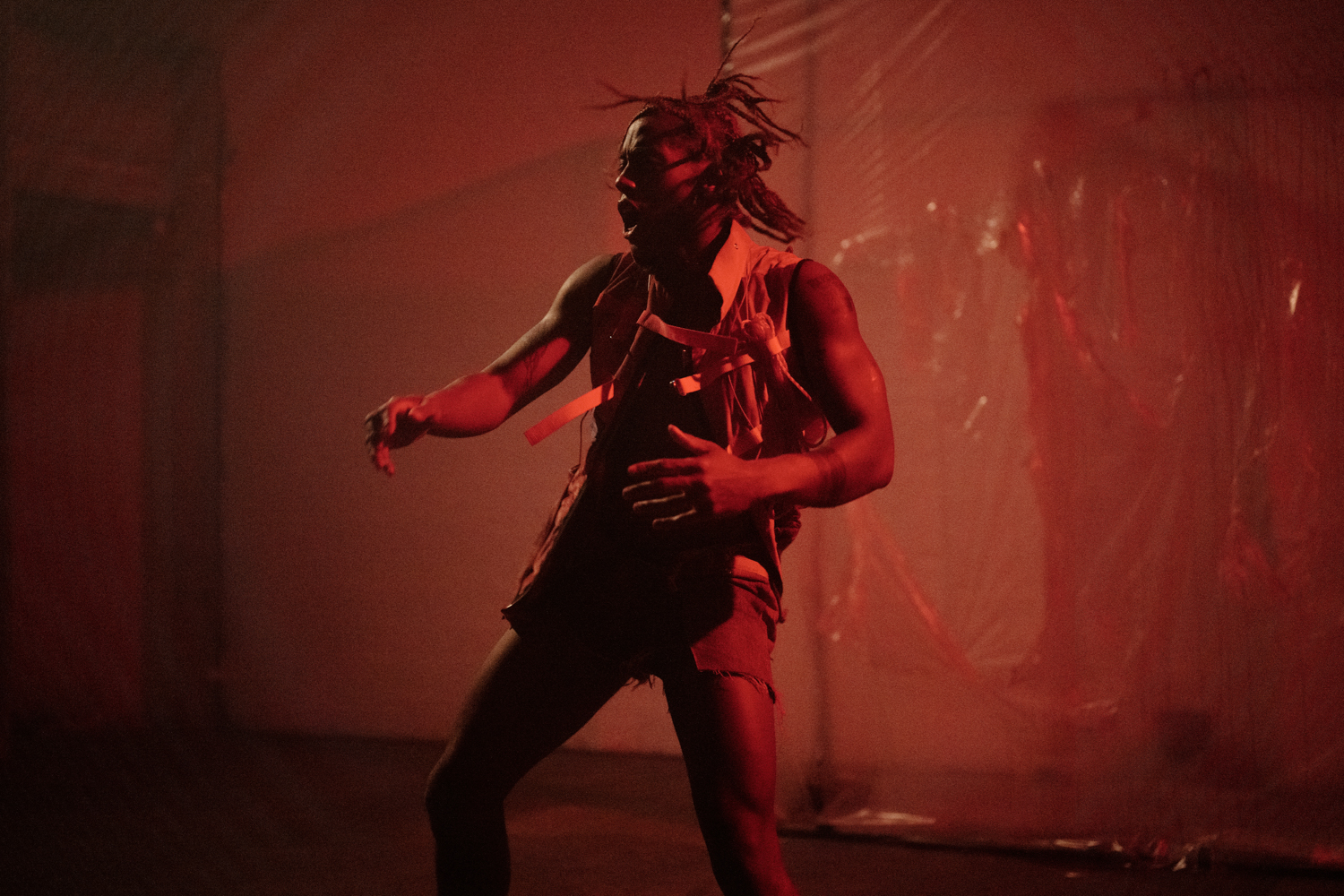 Goner; a figure: hopeless, ruined, doomed.
International choreographer, dancer and Forbes '30 under 30' star, Marikiscrycrycry returns with a fearsome dance horror journey into migration, alienation, belonging, addiction and violence.
Packed with intoxicating sensuality, this villain-era defining piece is as fierce as it is hopeful. Wining, liming and rocking will converge, and end with ultimate bloodshed.
It's rock-and-roll, scary, bold, violent, beautiful, sexy and f***** up.
Suddenly, nothing will feel safe—not even you.
Co-commissioned by
The Yard Theatre (UK), Dansehallerne (DK), MDT (SE), SNIF by Cambridge Junction (UK)
Additional Support by
Fest en Fest (UK), The Place (UK) @theplacelondon, Portland Institute of Contemporary Art, Creative Exchange Lab, lead support from The Andrew W. Mellon Foundation (USA) Toronto Community Love-in (CA) , My Wild Flag (SE, Sadler's Wells (UK), Pavillion K (DK)
Funded by Arts Council England (UK)
Unfolding II
Costume for dance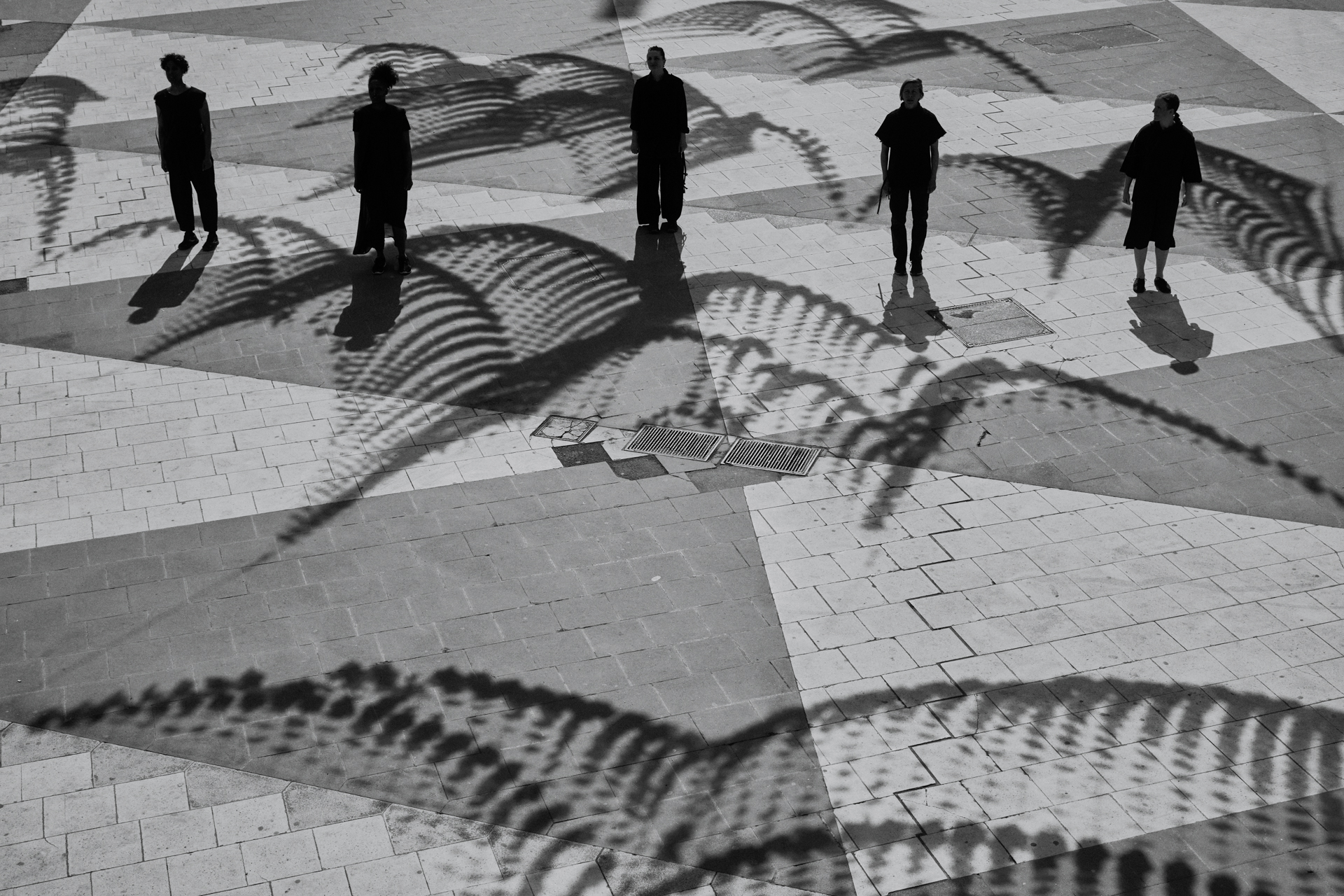 Achoreography that responds to the architecture, energy and history of three different places. Performed at Sergel's Torg and Tensta Torg in Stockholm, and Fittja Centrum in Botkyrka, as part of the STHLM Dans festival (May 4–14 2023).
Dancers: Jasmine Attié, Sophie Augot, Ulrika Berg, Elin Hallgren and Destiny Johannah af Kleen
Choreography/concept: Anna Koch
Costume: Erik Annerborn
Costume assistant: Acuarela Beard
Photography: Louise Helmfrid
Production:
Weld
in collaboration with STHLM DANS
STHLM Dans is supported by the Swedish Arts Council, The City of Stockholm, The Region of Stockholm, The Swedish Arts Grants Committee , Lithuanian Culture Institute, Stockholm University of the Arts, Creative Europe and Big Pulse.
︎STHLM DANS website
︎Weld website
Bien y Mal
Costume for dance
"[...]where rapture lies side by side with the dark and the horror of something more violent."
Thomas Olsson, SvD
︎Full article (in Swedish)

Stakes are high and the potential to fall too. In the piece Bien y Mal by choreographer Ofelia Jarl Ortega, five characters are facing the same fate, dealing with it in different ways. What at first seems graspable is displaced, and becomes uncertainty. There are neither good nor bad intentions, only devotion.
Tour dates 2023:
May 16-17:
Dansehallerne
, Copenhagen
May 25-27:
Arsenic
, Lausanne
July 12+14:
ImPulsTanz,
Vienna
Choreography: Ofelia Jarl Ortega in close collaboration with the performers
Performers: Ewa Dziarnowska, Gergö Farkas, Paolo de Venecia Gile, Dolores Hulan and Karina Villafan Composition and sound design: Jassem Hindi.
Light design: Mira Svanberg
Costume: Erik Annerborn
Producer: Terry Johnson, (Johnson & Bergsmark)
With support from The Swedish Art Grants Committee, The Swedish Arts Council and Stockholms Stad.
Co-production: Arsenic - Contemporary Performing Arts Centre, Lausanne, Dansehallerne, Copenhagen, Dansens Hus, Stockholm, Workshop Foundation, Budapest.
StM - A Version
Costume for dance
In StM the border between performer and spectator is not a divide but an opening. Here the borderland is a place to talk about the evasive. It is a space that pulses, yields and gives the spectator's gaze a body.
Costume for revitalisation of Ofelia Jarl Ortega's ground-breaking piece. Premiered at MDT (Moderna dansteatern) in Stockholm in summer 2022.
︎Ofelia Jarl Ortega
website
Concept, choreography, music, set design: Ofelia Jarl Ortega
Dance, choreography: Paolo de Venecia Gile
Costume: Erik Annerborn
Lighting design: Christoffer Lloyd, Ofelia Jarl Ortega
Dramaturge: Frida Sandström (StM, 2019)
Music advisor: Tami T
Photo: RES
Trailer, documentation: Nadja Voorham
Producer: Terry Johnson (Johnson & Bergsmark)
Supported by The Swedish Arts Council. Part of Life Long Burning – Towards a sustainable Eco-System for Contemporary Dance in Europe project (2018-2022) supported by the Creative Europe programme of the European Union.
Co-production: Inkonst, (Malmö), MDT (Stockholm), Arsenic, Centre d'art scénique contemporain (Lausanne)
Residency support: Arsenic (Lausanne), Danscentrum Syd (Malmö)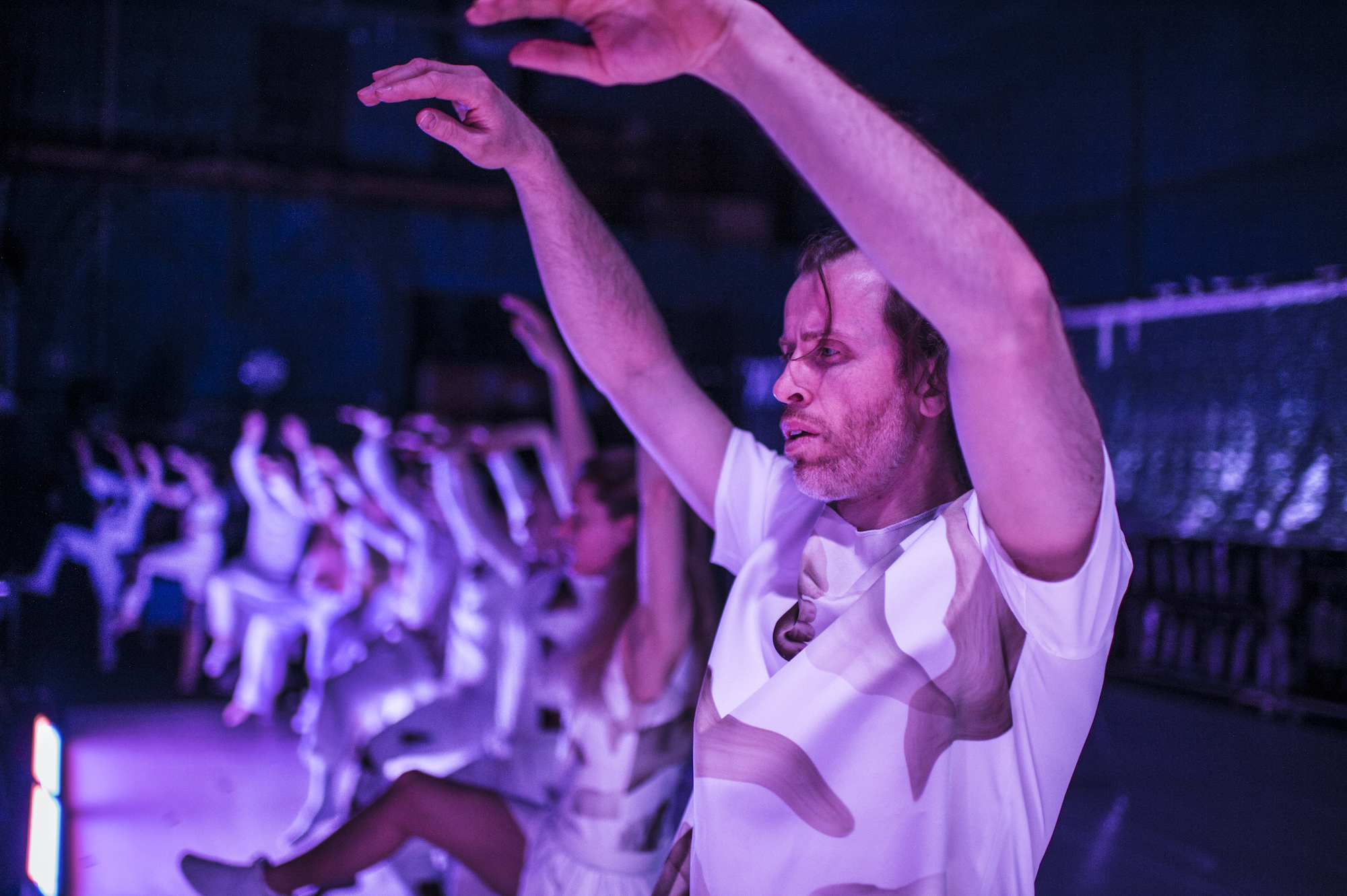 For this production for Dansens hus and Weld Company I wanted to highlight the participating dancers, as well as bringing them together and form a collective.
Phoenix is a work created with choreographer Rebecka Stillman. On stage we meet 13 dance artists who use different chorographical methods to explore what it means to actually be a company.
Production for Dansens hus, premiering at April 28, 2016.
Choreography: Rebecka Stillman with Weld Company.
Produced by Weld in collaboration with Nordberg Movement.
Nånting Måste Gå Sönder
Costume for feature film
When Sebastian meets Andreas for the first time, he knows immediately that they belong together. While Sebastian defies norms of gender and does not hide his androgynous gender fluidity which undermines everything that society sees as normal, Andreas tries to deal with the fact that for the first time he is attracted someone of the same sex.
Awarded with Guldbaggen (Swedish national film award) for Best Female Lead (Saga Becker as Sebastian).
︎Mubi article
Starring: Saga Becker, Iggy Malmborg, Shima Niavarani
Director: Ester Martin Bergsmark
Cinematography: Lisabi Fridell and Minka Jakerson
Producer: Anna-Maria Kantarius
Screenplay:Ester Martin Bergsmark and Eli Levén
Costume: Erik Annerborn
Produced by Garagefilm International.
Weld Company
Costume for dance
Between 2013–2016 I served as "resident" costume designer alongside the Weld Company during its formative years. Often precarious, always experimental, the company undertook the investigation of what it means to be a dance company in the 21st century.
Choreographers: Rebecka Stillman, Litó Walkey, Julian Weber, Weld Company
Members 2013–2017: Caroline Byström, Robin Dingemans, Sybrig Dokter,Marie Fahlin, Elias Girod, Noah Hellwig, Pavle Heidler, Disa Krosness, Josefine Larson Olin, Sandra Lolax, Robert Malmborg, Per Sacklén, Hanna Strandberg, Andrea Svensson, Anna Westberg.
Pojktanten
Costume for feature film
"Far from a conventional documentary, 'She Male Snails' was first intended as a portrait of transgender artist/author Eli Leven for Swedish television, but evolved over time into an experimental mood piece that sometimes elicits comparison with Cam Archer's 'Wild Tigers I Have Known' or early Derek Jarman."

Alissa Simon, Variety (2012)

AWARDS: Best Nordic Film Audience Choice (Gothenburg International Filmfestival 2012), Best Cinematography (Gothenburg International Filmfestival 2012), Best Nordic Film Honarable Mention (Gothenburg International Filmfestival 2012)

With: Ester Martin Bergsmark and Eli Levén
Director: Ester Martin Bergsmark Producer: Anna-Maria Kantarius/ Upfront Films
Cinematography: Minka Jakerson and Ester Martin Bergsmark
Set design: Sandra Lindgren
Costume: Erik Annerborn

An Upfront Films production.